Rave ABC
With Jakub Stritezsky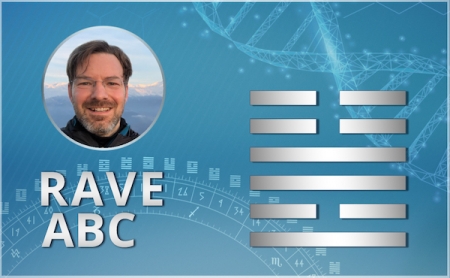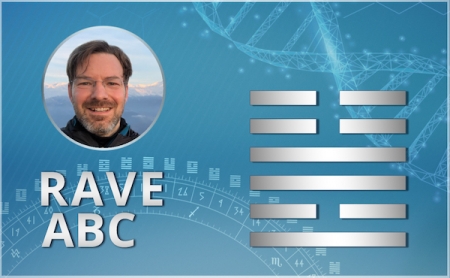 July 22nd - September 16th, 2019
Over 5 hrs of lessons (in member's area of the web) and 8 x 90 min classes (live online)
First live class happens on Monday, July 29th.
The Living Your Design course introduces many topics and the Human Design System as a whole. On the other hand, Rave ABC course focuses exclusively on three topics. This focus enables a deeper understanding of the Human Design and a more personal relationship with one's design.
Topics covered in the ABC course:
- Conscious and unconscious activations (Personality & Design)
- Hexagram Structure: lines 1-6, their values and frequency, harmonies and resonances
- Circuitry: three Circuit Groups and their keynotes
The purpose of this course is to gather all that we learned so far about energies, Type, Strategy & Authority and then add new details. This brings a more personal understanding of one's design and raises our body-mind synthesis to a new level. We will deepen our understanding of the bodygraph as a map of awareness and trace how energy flows through continuous streams (circuits). We will explore how the soul links with the bio-energetic vehicle through the line frequencies.
OPEN HOUSE
Here you can watch the Open House - introduction to the course from May 2017 (48 min).
Please excuse the low audio quality on Jakub's end.
YOU CAN ALSO
- read student's feedback
- watch the Introduction to Human Design presentation (YouTube)
We will also continue to expand our vocabulary and to communicate some basic yet very empowering observations to others about their own design. This "Keynoting" is a delicate art of weaving together the key aspects of a design. This course enables students to communicate the simple Keynotes in a helpful ways. This is in fact the beginning of the chart analysis process, which really takes place in the subsequent Professional training later on.
Workshops are conducted in a safe and warm atmosphere that facilitates breakthrough in your personal processes. Emphasis is on sharing personal experiences and examples will be demonstrated on the chart of all participants. You will be moved forward in ways that you have longed for. Having strengthened your inner resources, you will be able to apply them to your every-day life.
---
ABOUT YOUR TEACHER
Jakub is an experienced Human Design professional and teacher with an intimate knowledge of the course curriculum. For the past five years, he has assisted Genoa Bliven, head teacher at Human Design America, on all levels of the Human Design general and professional training. You can read more about Jakub here.
CLASS TIME & CLASSROOM
- Classes run on Mondays at 8 am PST/ 11 am EST / 3 pm GMT / 5 pm European.
- Class length is 2 hrs max.
- We meet through Zoom, which is super easy to use.
- It is OK to miss a class, as classes will be recorded and you can replay them through member's area of the web or download the audio.
YOUR INVESTMENT
Early bird price: $ 397
Regular price: $447 (from July 17th)
PAYMENT PLANT POSSIBLE in 2 or 3 payments, regular price applies.
Auditing fee: $177 - students who have already taken Rave ABC before are most welcome to participate

If you have any questions or need special payment arrangements, please This email address is being protected from spambots. You need JavaScript enabled to view it..
Recommended materials: Circuitry by Richard Rudd (link).
---
July 22nd - September 16th
Class Time: 8 am PST / 11 am EST
Prerequisites: Foundation Reading and LYD
Price: Earlybird price $ 397